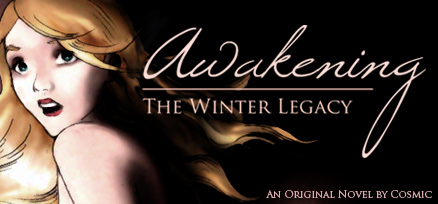 Chapter Three

Sitting in school the next morning, Natalie could only barely keep herself from impatiently drumming her fingers against the desk. She had awoken before her alarm went off and for once, she did not yawn her way through her history class. She wished school would end, but classes had never seemed longer.
She would meet her grandmother. A grandmother she had had no idea was even alive until two days ago – and now she would get to see her. Excitement rose in Natalie just thinking about it and she smiled to herself.
When Natalie arrived in the math class room, it was to the nice surprise of Cecily already sitting there.
"Good morning," said Natalie and sank into a seat next to Cecily.
Cecily smiled at the sight of her. "Good morning. How lovely to see a familiar face."
Natalie grinned, "I'm sure you'll make friends in no time and then you'll have forgotten all about me."
"Of course not," said Cecily and looked affronted. "I wouldn't do that."
Natalie chuckled. "That's good to know."
They fell into easy conversation about how far along in math they had gotten and Cecily asked what the math teacher was like. It felt completely natural and she wondered if Cecily had the same feeling as she did – Natalie forgot that they had only just met.
A few minutes later, Ava arrived as well and the three girls spoke in hushed whispers all the way through class, which earned them a reprimand from Mrs. Miller.
Ava left for her history class after math while Cecily joined Natalie in English class as well. When Physical Education came around just before lunch, however, Cecily headed off to French instead. She explained that she had been excused from PE and Natalie had no problem understanding that a girl who had trouble walking at a quick pace should not be running around playing soccer or hitting volleyballs.
Ava, however, appeared in PE for the first time since Natalie had started at Lake Sunflower.
"I didn't know you were in this class," Natalie said.
"I try not to be," said Ava with a roll of her eyes. "Phys ed isn't quite my thing. I mean, look at the clothes."
Natalie giggled, but had to agree that it looked odd to see Ava, who usually dressed in black, fishnet gloves and chains, wearing grey sweat pants and a t-shirt instead.
They sat together during lunch in the loud cafeteria. Cecily joined them not long after and the three busied themselves with small-talk and giggling over stupid things. Cecily told them about Ontario, where she had lived before moving to Lake Sunflower. Just as with Natalie, Ava jumped in her seat with excitement as she listened to what it was like to live anywhere that was not Lake Sunflower, though Ontario was not that far away.
Suddenly, someone behind them spoke.
"Trying to make friends with the new girls, Simonsen? No one here can stand you so you have to try elsewhere?"
The boy standing behind them was half a head taller than Natalie. He had dark blond hair and blue eyes in a face that would have been handsome if it had not been for the smirk he wore. Behind him stood two other boys and a stunningly beautiful girl.
Ava rolled her eyes. "Go back to your little groupies, Eadan. Without you, your one joint brain cell won't function."
The boy, apparently named Eadan, chuckled. The other boys did the same and a smirk not unlike Eadan's graced the girl's lips.
Eadan turned to Natalie and Cecily. Natalie noted the designer shirt and shoes. The boy came from money.
"You don't want to be friends with her. She's the school psycho."
Natalie rolled her eyes and was just about to reply when Cecily beat her to it.
"Maybe we're psycho too and don't care if she is as well," she said. "Maybe we're perfectly happy being who we are without having to worship a great big leader such as yourself."
She said it in a sweet tone but her eyes were dark with annoyance.
Eadan looked as though he wanted to ask why they did not want to be cool but he managed to stop himself. Cecily's eyes made him hesitate to say anything else so finally, he turned around and gestured towards his followers.
"Come on," he said. "Let's leave the freaks behind."
Then they strutted off, the girl shooting one last glare at Cecily, Ava and Natalie.
As soon as they had gone, the three girls burst into giggles.
"Nice," said Ava to Cecily. "It usually takes a punch or two to get him to shut up."
Natalie's eyebrows rose, though she was still giggling. "You've punched him?"
"He's been acting that way since we were in kindergarten together! Of course I have. You would have too."
Cecily looked at the door through which they had left. "Who is he?"
Ava shook her head and took a sip of her drink. "Chase Eadan. One of three sons born to Mr. Charles Eadan, Lake Sunflower's richest man by far and the biggest jerk you could ever imagine."
Natalie gave a low whistle. "I figured he was rich but—"
"He's more than rich," Ava said. "You should see the mansion they live in. It's insane."
"And the other kids that were with him?" asked Cecily.
"Those are his followers, and really, I wasn't kidding about the one brain cell. Those idiots do anything Eadan Junior tells them to do," Ava said with a shake of her head. "They're like his trained monkeys."
Natalie chuckled. "I don't think I have to ask why he doesn't like you."
Ava shook her head. "I refused to give up a toy to him when we were in kindergarten. He's pretty much hated me since."
"I suppose we're not very popular in his eyes either," Natalie said. Then she added with a grin, "But that was so worth it."
The three chuckled and continued their lunches. While Cecily and Ava fell into conversation once more, Natalie sat quietly and watched them. It was funny, she thought, that in a week at Lake Sunflower High, Natalie had made more friends than she had had in total during all her years in New York.
Ava and Cecily were truly opposites. They looked different and they acted different. Cecily's ill, small form contrasted against Ava's curvy body and where Cecily wore white and flowery clothes, Ava was all for black to the point of Goth and military colors. Even their complexions were opposite each other; Cecily's dark features versus Ava's red hair and freckles.
Natalie wondered for a moment if two people so different could really make good friends but listening to the two, it seemed entirely possible.
"What are you guys doing this afternoon?" asked Ava suddenly, the question directed to both Natalie and Cecily. It shook Natalie out of her reverie and she was reminded of where she was going when school was out. "We could hang out."
Natalie shook her head. "Any other afternoon, but this one. I'm going to see my grandmother."
"I'm guessing you don't see her very often?" Ava said.
"I've never met her at all," Natalie said. "I thought she was dead until I got a letter from her."
She explained to Ava and Cecily about the letter and its content. She smiled widely just by talking about it.
The excitement lasted until the end of art, her last class of the day. Cecily joined her as she walked out to the main street and scanned the busy street for her grandmother. The street milled with cars and students and since Natalie had no idea what her grandmother looked like, it made for quite the hard task to try to find her ride. Perhaps there would be a sign or something.
A man cleared his throat. "Miss Winters."
Cecily and Natalie both turned to find an older man standing behind him. If ever Natalie had pondered what a 'gentleman' would look like, the image she would create would likely be exactly the man standing before her. Somewhere in his sixties, the man had grey hair parted straight down the middle. He wore a button-up white shirt and a black vest, black pants and well-polished shoes.
The man looked down his rather large nose at Natalie.
"Miss Winters," he said again, "your grandmother sent me to pick you up."
He sounded very nearly irritated. Natalie exchanged looks with Cecily. "Right."
"Shall we? Your grandmother wanted me to bring you straight back with me," said the man. His accent was very British.
Natalie hugged Cecily goodbye. The man turned and started walking without looking back to check whether Natalie followed or not. She did, having to almost run to keep up with his long strides.
The man turned a corner and Natalie stopped dead in her tracks.
A large carriage pulled by two huge, red horses stood before her. The carriage was breathtakingly beautiful; the silver base was decorated with a multitude of small flowers and other details. It rested on four large wheels and looked like it had been taken straight out of a book from the seventeenth century.
The man who had led her there held the door open for her.
"Miss Winters," he said and made a gesture for her to get into the carriage. He looked impatient and Natalie scrambled into the carriage. The inside of it was spacious, with comfortable seats and large pillows. Natalie rested back, still in a bit of a shock. What kind of person was her grandmother?
Only moments after sitting down, the carriage started moving. The were no windows, or at least they were all covered with drapes. A light hung in the center of the carriage but it was dimmed. The gentle rocking of the carriage as the horses pulled it soon made Natalie drowsy and she fell into slumber.
She dreamed of the carriage flying through the air, the horses winged as fairytale creatures. She smiled at the dream, because she had always enjoyed the sensation of soaring through the sky. She dreamed that they landed smoothly in a bare, stony landscape that seemed to go on and on.
She could not be certain of whether it was a dream or not, but a man lifted her out of the carriage. She wondered fleetingly, as often done in dreams, if he was her prince charming. He did not smile at her. Instead he carried through a passage and suddenly, the light sky outside disappeared, darkness taking its place. A bad feeling settled in Natalie's stomach. Huge pillars grew around her, leaning over her and closing her in. Dark shapes moved between the pillars and she thought she could hear wicked laughter. Natalie's heart raced. This had turned into a nightmare! The cackling followed her as she tried to claw her way out of the dream. Her body wouldn't allow it – something tied her there.
The man dumped her unceremoniously on the ground. The hurt stabbed at her, and her addled brain began to realize that this was not a dream at all. Forcing herself awake, she slowly started gaining control of her limbs and her mind.
She gasped as she truly woke up. The man glanced at her and then, with a cruel smile, he placed a knife to her throat.
"Welcome back, Miss Winters."

She screamed.
The man holding the knife to her throat chuckled cruelly. "Who do you think will hear you?"
Natalie managed to look up and saw the gentleman who had picked her up. There was a gleam of madness in his eyes that she had not seen before. She wondered how she could have missed it. A black necklace with a round blood-red stone hung around his neck, shimmering almost as though it held life within.
The man touched it and for a moment, darkness surrounded him.
When it faded, the gentleman no longer the one holding her. In his place was a new man, a different one.
He looked a bit younger and black hair flowed behind him. His features were as sharp as the knife blade he held to Natalie's throat. He had dark, bloodshot eyes – but they flashed with the same madness Natalie had seen in them before. Natalie stared wide-eyed, her breath coming in short intakes. He had just changed his appearance. Just like that. And it had not merely been pulling a wig off – he had changed his entire face, his entire body. She wondered for a moment if she could be hallucinating – but the pain was too real.
The man unbuttoned the top button of his shirt.
"That butler wears it too tight," he whispered to her, into her ear. "But we all do what we have to."
Natalie shook with shock and tears formed in her eyes. The knife had her bending her head back in a hurting angle. It pressed hard and cold against the side of her throat, its touch just shy of piercing the skin. The man grabbed her arm and twisted it behind her back.
"What— what do you want with me? Who are you?"
Her voice wavered and the tears began spilling over at the new pain in her arm. The man chuckled at this and something in him reminded Natalie of a giddy child. An insane giddy child, but still.
"I am Ramon," whispered the man. "But that answer will cost you."
With a touch more pressure, Ramon broke the skin on Natalie's neck in a thin, red line. Immediately, blood started seeping down her throat. Natalie cried out and attempted to cover her throat with her hand. Ramon stopped her by twisting her other arm up further, nearly to the breaking point. Natalie's vision swam with a mixture of pain and tears.
"Please," she said, "don't kill me."
Ramon did not say a word. The knife swung around and for one excruciating moment, Natalie thought he was going to plunge it into her. When she felt no pain, she looked up – only to find him holding her mother's necklace in his hand. He had broken the chain with the knife.
"No!" she cried, "that's mine!"
"Not anymore," said Ramon and pocketed the necklace.
He threw her down on the ground. She landed hard and smashed her head against the ground. Only now did she notice the surroundings; the cold stone floor and the large pillars holding the roof up, far above their heads. She had not been dreaming earlier. Beyond the pillars she saw only darkness and Natalie could not tell if there were walls or not. The circular room had a round slab of stone in the very middle of it. Right above, Natalie saw a large, round hole in the roof. Shocked, Natalie noted the dark sky – it was night.
She pressed her hand against her throat and whimpered. The cut was not deep and it did not bleed much, but it throbbed dully and colored her hand.
Natalie looked at Ramon, circling her. The knife shone blue in the dim light.
She glanced around, trying to find a means to escape the lunatic. She berated herself for getting into the carriage in the first place – she should have realized. Then again, what should she have realized? The whole thing had been surreal, from the letter from her grandmother to the carriage and the gentleman. The whole thing had probably been some insane plan from the beginning to kidnap her. Her grandmother was probably dead after all.
"If it's ransom you want, we don't have much money," Natalie cried. "I live with my uncle and his wife and they – they don't make all that much—"
"I don't care about your money," snarled Ramon, interrupting her. "I am above such things. You are here for one reason only: to die, at midnight."
Natalie gasped and fresh tears fell down her cheeks. She looked around again. At the side furthest away from her, a large door rose. She could not be entirely sure it led out but she did not want to risk the darkness beyond the pillars being walls, so the door was her only choice. But how was she to get there? Ramon kept his eyes trained upon her, circling her like a vulture. Natalie felt rather certain Ramon was quite adept at throwing the knife. He seemed to be handling it with skill.
Still, the other option was to wait and die. No one else knew where she was. She had not told Richard because he would not be home until later anyway – she had counted on being back before him. Cecily and Ava knew she had gone to her grandmother, but they had no reason to suspect anything. And there obviously was no grandmother.
Natalie felt utterly alone.
But she refused to let any more tears flow. She would get out of here, or she was going to die trying. She did not want to think about how likely a prospect the latter was.
Slowly, as to not raise his attention any more, Natalie pulled her legs in. She would need to get up very quickly if she was to have any chance. Every now and then, Ramon glanced at the sky. It would be her window, her chance, as it was the only time he took his eyes off her.
He had not bound her, likely thinking she had no chance of getting away anyway. It was probably right.
Trying to steady her breathing, Natalie watched Ramon with the same intensity he watched her. He did not seem to notice, or at least he did not care.
Then he looked to the sky.
Natalie's muscles nearly exploded with the power she put behind. Quicker than she had thought herself able to move, Natalie rushed up and towards the door.
Ramon screamed at her. Then he threw his knife, his aim as precise as a trained sniper's.

Chapters
1 | 2 | 3 | 4 | 5 | 6 | 7 | 8 | 9 | 10 | 11 | 12 | 13 | 14 | 15 | 16 | 17 | 18 | epilogue

Readers of The Winter Legacy: Awakening - Chapter Three: